Dam breach continued to occur in Ia Krel 2 hydropower plant inundating low lying areas in Duc Co District, the Central Highlands province of Gia Lai on July 1.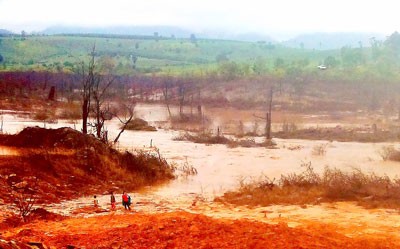 The Ia Krel 2 hydropower plant dam burst the second time in Gia Lai on August 1 (Photo: SGGP)
The first breach was in June last year. The plant is invested by Bao Long-Gia Lai Company at VND120 billion.
Nearly 60 workers and officials from Company 72 were isolated by floodwaters which swelled Doi River to collapse a suspension bridge in Ia Dom Commune.
Heavy rain has occurred in the district for the last several days, according to local residents. On early August 1, some people crossed the dam to work in their mountain fields and found that water was leaking out from some cracks on the dam body.
They informed Ia Dom Commune authorities who then evacuated a number of residents to high grounds.
Local man Ro La Nhen from Bi Village in the commune told it was 8 a.m. when the spring river rushed down noisily and surged to 5-7 meters. Villagers fled for their lives seeing floodwaters sweep away their properties together with farm animals and crops.
The breach occurred at the same position in June last year and a nearby sluice gate.
Over 100 hectares of cassava crops and vegetables were flooded and several tractors of local ethnic people were washed away, according to statistics from the commune People's Committee.
Mr. Hoang Cong Lu, deputy chairman of the province People Committee, said that they have instructed rescue forces to keep watch over the area and prevent heavy rain-trigger flooding from causing further losses. The incident will be soon reported to the Prime Minister.
Authorized agencies will access damage to claim compensation from the inventor while the police have also started to investigate the breach's reason and bring out any responsible individual and teams.