Rapid and unplanned development of hydropower projects in the central province of Quang Nam has upturned the lives of local residents and devastated thousands of hectares of precious forest land.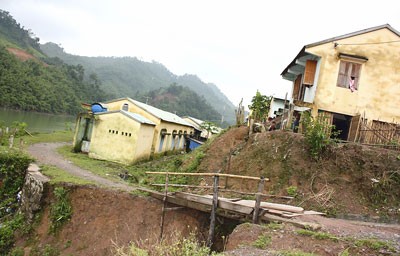 Residents in resettlement areas in Quang Nam Province live in poorly constructed houses and lack farming land (Photo: SGGP)
Quang Nam Province leads the central and central highland regions with 44 hydropower projects. These projects have either been built, or are under construction, or about to begin construction.
 
Thousands of households have had to relocate to resettlement areas built by investors of these hydropower plants. Most of these new houses are of poor quality and already downgraded.
Most relocated households are of ethnic minority groups who are used to living in wooden houses and are most uncomfortable in brick and concrete structures. Several have since abandoned their resettlement homes and set up wooden houses in the forest in Bac Tra My, Dong Giang and Tay Giang Districts.
The Pachepalanh resettlement area in Dong Giang District was only built two years back but is already in need of repair. All the 257 households who relocated there, to make way for the A Vuong Hydropower Plant, said that they don't even have cultivable land and are in constant fear of mountain landslides.
Bhling Mia, chairman of the People's Committee in Tay Giang District, said that they have met with A Vuong Hydropower Company to discuss measures to help residents in resettlement areas. However, the company has just assisted with a small fund and left the burden on local authorities.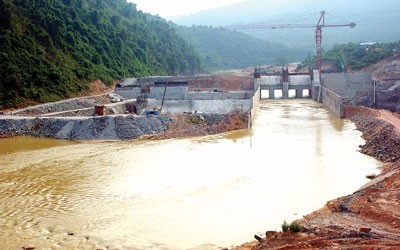 This was once a primeval forest, before the construction of A Vuong Hydropower Plant in Dong Giang District in Quang Nam Province (Photo: SGGP)
According to the Ethnic Minority and Mountainous Committee in Quang Nam Province, 97 percent of residents think that resettlement houses built by investors of hydropower plants are of low quality.
Tran Anh Tuan, deputy chairman of the People's Committee in Bac Tra My District, said that recurring and frequent earthquakes near Song Tranh 2 Hydropower Plant have made lives of residents in the resettlement areas even more unstable.
At the end of the 20th century, Quang Nam Province was covered with thick green forest, and over the last ten years vast areas have been denuded, ever since the State permitted hydropower projects to be built.
The provincial Department of Natural Resources and Environment said that at least 10,000 hectares of forest land has been taken over by hydropower plants. Of them A Vuong Hydropower Plant swallowed 1,000 hectares, Song Tranh 2 and 3 more than 2,600 hectares.
Diep Thanh Phong, deputy director of the Department of Agriculture and Rural Development, said that so far none of the investors of   hydropower plants already operating have cared to afforest the denuded areas or paid a penny for this purpose.