Nghe An Province has almost 72 hydropower plants that are operational and with total capacity of 1,000MW, leaving local residents to cope with and suffer under heavy environmental pollution, that has only made their lives much more difficult.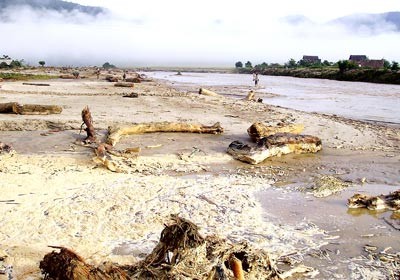 Nam Giai River is now a dry bed after the hydropower plants in Que Phong District of Nghe An Province became operational (Photo: SGGP)
Ban Ve Hydropower Plant in Tuong Duong District has now come into operation and has made lives of resettled residents very difficult.
The plant construction began in 2006, when over 2,000 households had to relocate to the new resettlement areas in Thanh Son and Ngoc Lam Communes. However, unemployment and lack of farmland led nearly 200 households to return to their old villages in the Ban Ve reservoir area.
Of these, 36 households have sold their property in the resettlement area, which led to their children stopping school.
Nam River has become a victim of the Ban Ve Hydropower Plant. Since May, the plant has continuously accumulated water. This has depleted the river, which is now a barren bed with several ditches of mud and soil.
Waterway traffic on the river was paralyzed for 10 days in early May, to cut off four communes in the upper reaches of the river that included Bac Ly and My Ly Communes in Ky Son District and Nhon Mai and Mai Son Communes in Tuong Duong District.
During this period, local residents could not buy food and essential items, while students could not go to school.
Vi Van Thong, a local skilled boat builder, said that such a scenario has never occurred before the Ban Ve Plant came into operation.
Seven hydropower projects have been approved on nearly 68,000 hectares of Pu Hoat Natural Reserve in Que Phong and Quy Chau Districts.
Ho Sy Dung, deputy head of the Environment Protection Department in the province, said that construction of the hydropower plants have affected the ecosystem of the natural reserve.
Rivers like Nam Quang, Nam Giai and Hieu are drying in the natural reserve.
Sao Va Waterfall, once a famous landmark that attracted a lot of visitors in Nghe An Province, is now depleted and deserted since the Sao Va Hydropower Plant was built only 1.5 kilometres from the waterfall's upper reaches in 2006.
The plant has drained water from springs and rivers which provide water for the waterfall.
Bui Xuan Hung, head of the electrical energy management department under the provincial Department of Industry and Trade, said that the seven hydropower projects had been approved by the Ministry of Industry and Trade and the province authorities.
Mr. Hung said that they had protested against the policy to build these plants along the Pu Hoat Natural Reserve, but their efforts went in vain.
Related articles:
Residents inconvenienced in new resettlement areas
Hydropower Plant refuses to release water for Vu Gia River