The Irrigation Department under the Ministry of Agriculture and Rural Development met with representatives of Quang Nam Province, Da Nang City and Hydropower Plants, for release of water from dam reservoirs to help ease drought conditions in the region.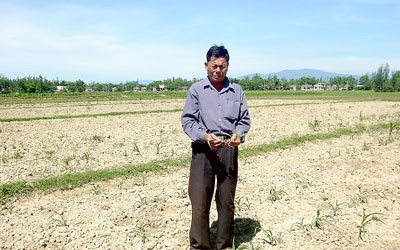 Low-lying areas of Quang Nam Province are facing severe drought conditions (Photo: SGGP)
The Department of Agriculture and Rural Development in Da Nang City said the rainfall had been inadequate since the beginning of the year and yet Dak Mi 4 Hydropower Plant had not released water into the Vu Gia River.
This has caused severe water shortage at the Cau Do Water Supply Plant in Da Nang City, and for 10,000 hectares of farm land in the city and Dien Ban, Hoi An and Dai Loc Districts.
Huynh Van Thang, deputy director of the Department, asked Dak Mi 4 Hydropower Plant to stop power generation and instead release water into Vu Gia River for irrigation of the summer-autumn rice crop as well as for 1.7 million residents in the lower reaches.
However, Nguyen Ngoc Quang, deputy director of the People's Committee of Quang Nam Province, said that Dak Mi 4 need not stop power generation as water discharged into Thu Bon River flows into Vu Gia River through Quang Hue River.
In response, Mr. Thang said that Thu Bon River is located on a lower terrain, making it tricky for water to flow into Vu Gia River.
Nguyen Van Tinh, deputy head of the Irrigation Department, proposed local authorities build a dam on Quang Hue River to prevent water from running from Vu Gia River into Thu Bon River.
From May 15-30, hydropower plants must release water for farmers to cultivate their summer-autumn crop.
Earlier, Da Nang City had many times requested the Government and relevant ministries to ask Dak Mi 4 Hydropower Plant to release water into Vu Gia River.

Related article:
Severe drought across central region