Construction began on the Song Nam-Song Bac Hydropower Project three years back, but with no development in sight, hundreds of hectares of forest land is lying wasted and unused in the central city of Da Nang.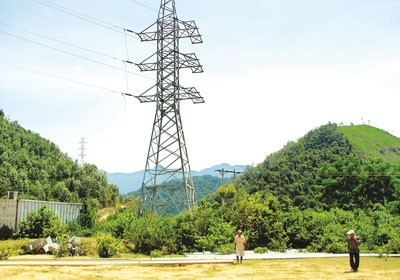 Song Nam-Song Bac Hydropower Project has constructed only a few electric poles in the recent three years (Photo: SGGP)
Song Nam-Song Bac was the only Hydropower Project that was planned in Da Nang City, as compared to other provinces and cities in the central region where there are many.
Investment for the 49.2 MW project has come from the Vietnam Rubber Group in Hoa Vang District, which included the Song Bac 1, Song Bac 2 and Song Nam Plants at a total investment of VND1.4 trillion (US$66.54 million).
The project has taken over 300 hectares of forest land belonging to local people of Ta Lang and Gian Bi Hamlets in Hoa Bac Commune, where 120 households handed over their land to the investor five years back. Only less than half of them have received compensation so far.
Phan Dieu, a local resident, said that his family planted 1.8 hectares of the forest. That area was transferred to the investor in 2009. However, he has been paid only VND10 million ($475) in compensation and is not sure when the investor will clear the rest of the money.
Most residents of Gian Bi Hamlet are of the Co Tu ethnic minority group, who are now left without productive land.
The forest area that they earlier planted has been lying fallowed for the last five years. There have been several people from other places who have come to chop down the trees, and the local people have been helpless in stopping them as the land no longer belongs to them.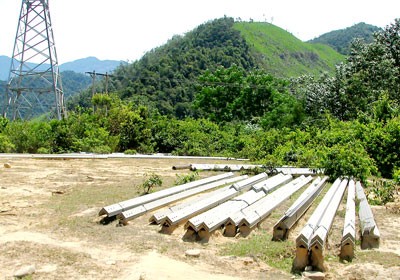 Steel beams lie abandoned at the construction site of the delayed Song Nam-Song Bac Hydropower Project (Photo: SGGP)
Pham Ngoc Su, director of the Ba Na-Nui Chua Forest Management Board, said that the Song Nam-Song Bac project needs to clear more than 984 hectares of forest area, of which, 240 hectares have been demarcated for nature conservation and is strictly protected.
The investor started the project on September 5, 2011; which was one year before the People's Committee in Da Nang City sent a report to the Ministry of Agriculture and Rural Development on the project.
The Ministry sent back a response on September 30, 2011; stating if the investor wants to use more than 50 hectares of forest area, originally meant for natural conservation, approval must come from the National Assembly.
The investor has carried out the project too hastily, resulting in delays for the last three years which has affected hundreds of local people. The project site now comprises of only ten standing electric poles and some steel beams lying abandoned on site.