The Ministry of Agriculture and Rural Development has requested the Prime Minister not allow construction of another hydropower project unless the investor offers an effective afforestation plan to replace and maintain the natural green cover, which normally gets denuded while the plant is being built.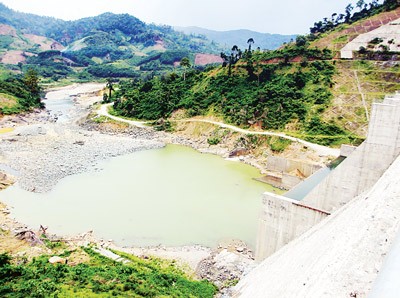 Dak Mi 4 Hydropower Plant in Quang Nam Province, one of provinces have  the most number of hydropower plants in the country (Photo: SGGP)
The ministry also proposed to limit licensing of hydropower projects on natural forest area.
In a report sent to the PM, the ministry said that the country has 160 hydropower projects approved for construction on 19,800 hectares of forest land in 29 provinces and cities, during the period 2006-2012.
The Central Highlands have the most density of hydropower projects. Even though they are only spread over five provinces, an area of 8,162 hectares of forest has already been cleared to make way for the hydropower plants.
The now deforested area in the Central Highlands accounts for 41 percent of deforested area in the country.
The Central Highlands are closely followed by the north-central region, northeastern region and northwestern region, in the number of existing hydropower plants.
Provinces seeing the most denuded forest land for hydropower plants are Dak Nong, Lai Chau, Lam Dong, Gia Lai, Kon Tum, Quang Nam and Nghe An.
Of the 29 provinces where hydropower plants have been built, only eight have reforested a total area of 735 hectares, only 3.7 percent of denuded forest cover.