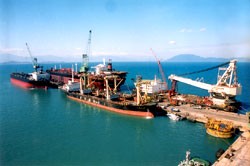 Hyundai-Vinashin shipyard in Khanh Hoa Province (Photo: www.nhatrang-travel.com)
Khanh Hoa Province's officials have slapped a VND85 million (about US$5,300) penalty on the Hyundai-Vinashin shipyard in the central province for polluting the environment.
The shipyard, a joint venture between the Republic of Korea's Hyundai and the Vietnam Shipbuilding Industry Corporation (Vinashin), had discharged Nix dust particles into the neighborhood in My Giang and Ninh Yen hamlets of Ninh Hoa District.
The chairman of the Khanh Hoa People's Committee asked the shipyard's management to resolve the environmental issues, compensate affected people, and assist them in moving to new places when they want.