Western media, the U.S. media in particular, ran stories referring to the visit of Vietnamese President Nguyen Minh Triet to the U.S. this June like the melting of an iceberg between the two countries, with both sides looking to the future and hoping to brush aside any residual bitterness from the Viet Nam War.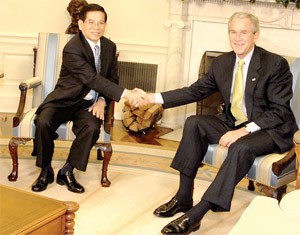 President Nguyen Minh Triet (L) shakes hands with U.S President George W. Bush during talks in the White House on June 22

Viet Nam - U.S. relations has entered a new chapter, picturing a brighter future. After many lost years, Viet Nam and the United States have realized that they have many things in common, things that they can use to build a strong relationship for the future rather than focusing on a past that has separated them.
Both Viet Nam and the U.S. are striving to improve both the immediate and long-term interests of the two countries and following the bilateral relations that were normalized in 1995, efforts from both sides have seen Viet Nam - U.S. relations improve dramatically.

The most impressive thing for many people is the growth of economic relations; only 10 years after normalization, bilateral trade volumes have increased nearly twenty fold. Many leading US businesses with well-known brands such as Boeing, Ford, Microsoft, Intel and GE are now present in Viet Nam.

With Viet Nam's membership in the World Trade Organization and the United States' establishment of Permanent Normal Trade Relations with Viet Nam, more opportunities have opened up for expanding bilateral economic relations.

Besides economic cooperation, the Viet Nam - U.S. relationship has expanded to other fields of culture, education and sports, as well as cooperation against nontraditional security threats including terrorism and transnational crime.

In particular, goodwill and close cooperation in solving the war legacies have played an important role in promoting cooperation in other fields.

Even on issues where there are differences due to historical background, traditions, culture, customs and development levels, the two sides have established dialogue and cooperation mechanisms to understand one another as well as possible.

After a dozen years of normalization, unprecedented opportunities are beginning to unfold for Viet Nam and the United States to build a more sustainable, fruitful relationship.

Bilateral ties are based on the two countries' common interests and concerns: commerce, culture, science and technology, education, regional peace and stability, the fight against terrorism, prevention of the production of weapons of mass destruction, humanitarian assistance to combat HIV/AIDS, avian influenza, and the lingering wounds of war.

For Viet Nam, the United States will always be a key partner, and Viet Nam's commitment to multifaceted cooperation with the United States is sincere and steadfast.

Viet Nam has emerged today as one of the most dynamic and rapidly growing economies in the world. Known as a new rising star in Asia, Viet Nam offers an attractive business and investment environment, driven by a youthful and friendly population who are exceedingly optimistic about the future.

Over 20 contracts totaling US$11 billion have been signed between the two sides since the President's U.S. visit.

The President also sent a message of national harmony to overseas Vietnamese in the U.S., calling all Viet Kieu an integral part of the country.