Cao Van Hoa, deputy director of the Department of Agriculture and Rural Development in Tien Giang Province in the Mekong Delta, announced on March 18 that local authorities have recently discovered a variety of illegal hybrid rice being cultivated on a 0.2 hectare field in Hamlet 5 of Binh Xuan Commune in Go Cong Town.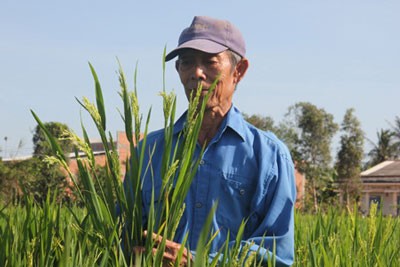 The illegal hybrid rice variety discovered in the Mekong Delta area lately
It was reported that Nguyen Duc Man, director general of Pioneer Hi-Bred Vietnam Co. Ltd, leased the land from farmer Nguyen Van Viet to grow the F1 type of more than 354 rice varieties which originated either in Indonesia or the Philippines and was given phytosanitary certification by the Department of Plant Protection in May 2012.

At the moment, the rice field is around 100 days old with four varieties having been reaped and so far not shown any harm to neighboring fields.
The People's Committee of Binh Xuan Commune, however, is assigned to closely watch the case to avoid any possible danger it may cause in the future.

Since Man is growing hybrid rice on a non-appointed area and without a legal license from the government, the Tien Giang Department of Agriculture and Rural Development is now checking his documents and will hold a meeting with local authorities to resolve this issue.

Tien Giang is currently not on the list of areas allowed to grow new hybrid rice as per the Department of Plant Protection.

In related news, residents of Tan Loi Hamlet in Tan Tien Commune in Tri Ton District of An Giang Province, discovered suspicious looking strangers trying to lease 12 hectares of land to grow hybrid rice. Had they not been found out and reported to local authorities, these strangers would have organized an informal discussion to introduce growing techniques for this hybrid variety to farmers.