From the beginning of the year, the number of cases of illegal logging has been increasing at an alarming rate, said the Ministry of Agricultural and Rural Development at a national workshop in Hanoi Tuesday.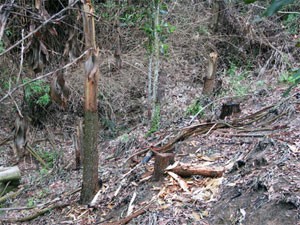 Evidence of illegal deforestation
Organized by the ministry, the workshop focused on emergency measures to save forests through sustainable development, which is also viewed as a solution to help ease the adverse effects of climate change in the region.

According to statistical reports released at the workshop, since the beginning of April this year, hundreds of attacks by lumberjacks on forest rangers have also taken place nationwide, among them were 22 serious cases, causing injuries to 14 forest rangers and damaging many public properties.

Such attacks were reported to have happened mostly in Quang Binh, Quang Nam, Kon Tum, Gia Lai, Dac Lac, Dac Nong, Lam Dong, Binh Phuoc, Ha Tinh and Binh Dinh provinces.

Ha Cong Tuan, director of the Forest Protection Department, said that as many as 11,090 illegal cases of timber exploitation, transportation and processing had taken place throughout the country since early this year, an increase of 3.5 percent compared with the same period year before.

Illegal logging was reported to have mostly occurred in jungle areas that are covered by trees of high-quality wood, especially in the Central Highlands, Southeast region and Central coastal provinces.

To protect forests and stop lumberjacks from attacking forest rangers effectively, according to Mr Tuan, it is necessary to launch forest protection campaigns throughout the country to raise the public awareness of the importance of forest protection and growing.

Severe disciplinary measures have also been proposed on lumberjacks who attack forest rangers as a warning to others.

The ministry requested the Prime Minister's permission to setup a national steering committee responsible for protecting and growing forests.

It also asked the PM to allow it to recruit a further 3,000 forest rangers to supplement the current regular force.

At present, the ministry has the task of outlining necessary measures to protect and develop forests between 2010 and 2020.