Illegal gold miners have dug into mountains and hills in the Tuong Dong area in the central highland province of Dak Nong for the last ten years with complete disregard to repeated raids conducted by local authorities.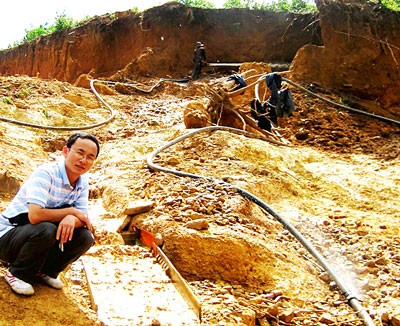 A gold mining site in Tuong Dong area in Dak G'long District of Dak Nong Province (Photo: SGGP)
The Tuong Dong area is located about five to ten kilometres from the edge of Dak Ha forest in Dak Ha Commune of Dak G'Long District.
Sai Gon Giai Phong reporters were present in the Tuong Dong area lately and saw the denuded hills where even springs were muddy from excessive gold exploitation.
 
In about a four hectare area, 20 people were found digging. A miner named T from Thanh Hoa said that he was with the group of 20 people from the northern region that are currently working on a site for a company from Gia Nghia town in the province, but he did not name the company. They were being paid VND2-3 million a month for their job.
T took the reporters to a 10m deep pit where a group of miners were working. They used a winch to carry soil from the pit and the winch was also used for taking the miner to the pit. After an hour, a miner would be pulled up to be replaced by another. They worked in turns like this for 10 hours a day.
Going along the river, the reporters arrived at another site, which belonged to a man named Q. He had purchased a four hectare hill area and brought in machines to dig gold.
He has employed eight people, who use machines to pump water from a spring to pour down the hill to wash away soil to spouts for sifting the gold.
According to him, his site is the smallest in the area, among about ten gold mining sites in the Tuong Dong area. Some of the sites hire up to a hundred workers each.
In a nearby site, the miners even dig deeper and wider tunnels, which even have electricity to facilitate gold exploitation.
A digger named M from Nam Dinh Province said that they were paid VND2.5 million a month by a company from Gia Nghia Town.
Illegal gold exploitation has been occurring in Dak G'long District for the last several years. The district authorities have conducted countless raids in Tuong Dong area but the gold miners have kept returning back.
Duong Quoc Hung, deputy head of the district's Natural Resource and Environment Department said that the latest raid was conducted in March.
Most gold miners in Tuong Dong area said that they are working for a mineral exploitation company in Gia Nghia town.
Nguyen Huu Kien, deputy head of the Dak G'long People's Committee said that the district has not licensed any company to exploit gold. However, illegal gold mining is taking place in five of the district's seven communes.