Forests and rivers from the Central Highlands' Dak Nong Province have been heavily disturbed by illegal gold mining of two companies, which also attacked local officials and made illegal transfers of forest land.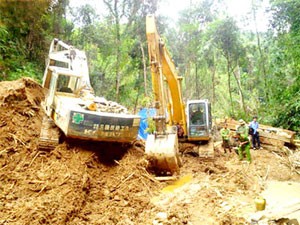 Local officials in Dak Nong Province check a gold ground being excavated illegally by local Thanh Trung Company
Local residents in many communes around Dak G'long District said that Bao Thu Industrial Investment and Development JSC from the south central province of Binh Thuan and the local company Thanh Trung Company, have polluted the local rivers and made their daily life affected, a recent investigation by the Saigon Giai Phong has found.
The companies are only allowed to detect gold in the area to take samples for further research.
But at a gold ground more than 25 kilometers from the center of Quang Hoa Commune, bulldozers from the companies have felled dozens of hectares of trees, which were replaced by a lot of tents set up by workers from the companies.
The Dak R'mang, Dak N'ting and Krong No Rivers have been thick with mud discharged from the digging.
Vang A Thinh, a local resident from Dak R'mang Commune, said the streams were very clean but since the gold mining, "people taking bath in the rivers have developed rash while those drinking the water were poisoned."
"All fish and shrimps in the river were dead. There's no single one of them left," Thinh said.
The pollution was even more severe in Quang Hoa Commune as it received all the gold mining chemicals from other communes via the streams.
Le Viet Sinh, Chairman of Quang Hoa Commune, said more than 500 families in the commune have suffered thirst for many days as their source of drinking water, the Dak R'mang and Krong No Streams, have been polluted with mercury.
Sinh said the companies had put up more than 40 tents around local forests, brought in 13 excavators and hundreds of workers from northern provinces.
A group of local officials from Quang Hoa Commune, including a senior police officer, when checking a gold ground of Thanh Trung Company last month were attacked by more than 40 armed people of the company.
One person from the armed force said "the province People's Committee has given us this land to mine gold, no one else is allowed to come here."
Five officials were held hostage and were only let go later on the same day after one of them escaped and brought district police.
But the police did not arrest the attackers.
People from Thanh Trung Company earlier also attacked local residents who sifted gold from local streams, causing heavy injuries to a man named Nguyen Van Khanh who had to be rushed to hospital.
But if they were offered a high price, the companies after detecting gold would illegally rent out the land to illegal gold miners.
Pham Van Le from the nearby Lam Dong Province said that he has signed a contract with Thanh Trung Company saying that the company would rent the land detected with gold to him at VND50 million (US$2,419) a year.
Le Van Hoang from the northern province of Ninh Binh is mining gold at another area given by Thanh Trung Company after paying it VND4 million a month.
Local Dinh Van Dung also said that he made a verbal contract with the company to pay VND4 million a month to mine gold in an area.
The two companies also encroached forestation land of many other companies in the area, causing severe public disorder.
Dam Quang Trung, Chairman of Dak G'long District People's Committee, said that "Illegal gold mining in the district has been going on for many years and the district forces have not been able to clear the activity yet, after making a lot of efforts."
Trung said the district has lodged letters to the province authorities asking for help.