Hundreds of residents from Thuong Loc, Nhan Loc and Phu Loc communes in Can Loc District in the central province of Ha Tinh are camped in the forest areas of Thuong Loc commune, to illegally mine iron ore.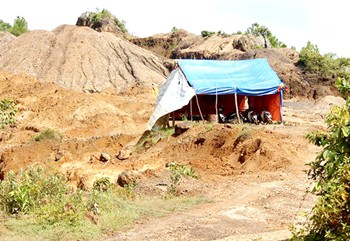 A tent camp set by iron ore miners in Thuong Loc Commune in Can Loc District of Ha Tinh Province (Photo: SGGP)
The past few weeks have seen numerous pine trees and valuable timber chopped down in the province. At the top of the hill, several camps have been set up by local diggers who are prospective iron ore miners. Several deep holes have been dug in the hill and some precariously on the verge of collapse.
The forest areas of Thuong Loc Commune are managed by the Can Loc rubber farm. Local authorities have yet to take action against people from destroying the forest area, for illegal iron ore exploration.
65 year old Dang Minh, an explorer from Thuong Loc Commune, says iron ore is abundant here and there is no organ managing the ore mines. As a result, local people feel free to come in and exploit the situation. Traders purchase the iron ore at the source at VND10-15,000 a bag weighing 70-80 kilograms. Minh said he can dig at least ten bags per day.
Sai Gon Giai Phong Newspaper noticed that about 40-60 tons of iron ore is being moved from Thuong Loc Commune every day. Traders usually transport the iron ore during the night to Cua Lo town in Nghe An Province and then move it to sell in China.