Hundreds of square meters of riverbanks are collapsing into the Saigon River with illegal sand dredging continuing unabated and local authorities being impotent in tackling the issue.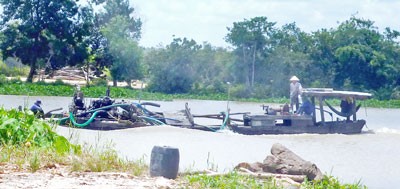 Boats illegally extracting sand from Saigon River in Cu Chi District in HCMC (Photo: SGGP)
Thousands of cubic meters of sand is illegally exploited every night along the Saigon River in Cu Chi District of Ho Chi Minh City, Ben Cat and Dau Tieng District in Tay Ninh Province and Trang Bang District in Tay Ninh Province.
At 10pm one day recently, the section of the river closest to HCMC, Tay Ninh and Binh Duong Provinces saw illegal exploiters use sand pumping machines to dredge sand.
Saigon Giai Phong reporter saw tens of boats anchored along the river in Phu My Hung Commune in Cu Chi District in HCMC.
Each boat was operated by four people who were busy extracting sand.  After one hour, they filled their boats with sand and moved to Thanh Tuyen Commune on the other side of the river. They returned to continue exploitation after 20 minutes.
By 2am, each boat had extracted and transported hundreds of cubic meters of sand to Thanh Tuyen Commune. They quickly switched off their machinery after seeing flashlights from Ben Suc Bridge at 3.30am but soon resumed operations half an hour later.
Illegal sand dredging has caused severe landslides along 100 kilometers of the Saigon River bank from Cu Chi District in HCMC to Trang Bang District in Tay Ninh Province. Several embankment sections built by local resident hold back high tide and protect vast areas of fields and gardens from collapsing into the river.
More than 12 landslide spots have been recorded along a 15km riverbank stretch in Ben Cat District in Binh Duong Province in the last four years. Each spot stretches 5-20km inland.
Nguyen Van Hieu, a local man in An Nhon Tay Commune in Cu Chi District, said that his 4,000 square meter rice field dropped into the river last year.
Local people have sent hundreds of petitions to commune and district authorities in the last several years, but in vain. They even resisted sand miners, who then took revenge afterwards. A lot of residents have had to sell their land to the sand miners and move to other places to live.
However authorized organs have not examined and handled the illegal sand exploitation properly. Before inspectors come, the Saigon River becomes very quiet because sand boats have been notified.
A man, named H who used to work for a sand 'lord' in Phu My Hung Commune in Cu Chi District, said that his owner has settings with staff from the environment division of the district Department of Natural Resources and Environment. He is thus updated on patrolling schedules before time.
To cope with unexpected patrols from the province or the City, his owner gives nearby beverage sellers few hundred thousand Vietnamese dongs every month.
In an emergency, sand miners sink their boats and jump into the river to swim towards the shore. However such cases rarely happen, he said.
According to H, there is a woman in Tay Ninh and Binh Duong Province who owned hundreds of boats for this purpose and has managed to have a sand exploitation license in the Saigon River. Most illegal sand is sold to her.
The Saigon Giai Phong reporter found that the People's Committee in Tay Ninh Province has licensed only Minh Hung Company to dredge sand in Don Thuan Commune of Trang Bang and Thanh An Commune of Dau Tieng District.
The company manager is Tran Thi Luom. In September 2002, Nguyen Van Chau, deputy chairman of the district People's Committee, licensed Luom's Company to exploit sand for a period of 14 years. The license was made although the Government had earlier suspended all sand exploitation operations on the Saigon River in May 1998.
Answering Saigon Giai Phong, local authorities said they had done their best to prevent illegal sand dredging.
Huynh Thi Vang, deputy director of the Department of Natural Resources and Environment in Cu Chi District of HCMC, said that they spend hundreds of millions of dong to pursue and arrest sand miners annually.
During 2006-2012, they uncovered and handled 45 violation cases and seized 45 boats and machines. However the number is much higher than in practice.
Vang said that funds and human resource shortage has hampered their efforts.
In addition, the sand miners have been armed with scimitars and willing to attack inspectors. The district has done the best but still fails to suppress violations, she said.
She proposed the City Department of Planning and Investment tighten licensing businesses on the Saigon River.
According to a deputy chairman of a commune in Dau Tieng District in Tay Ninh Province, they just supervise and report to higher authorities every month but are impotent without funds to directly tackle the issue. The district and province authorities should take more action to stop illegal sand dredging.
If sand exploitation keeps going unabated, riverbank landslides will worsen and continue to be a threat to local people, he said.