Inshore fishermen in the south-east coast Binh Thuan Province are facing losses, as their fishing areas are encroached by thuggish trawlers.

Trawling is an age-old practice for fishermen in Binh Thuan.

In one or two boats, trawlermen drag a large net behind them in order to catch deep sea fish.

But such trawling does not only catch fish, it also snatches many objects that get in the net's path.

Most trawlers in Binh Thuan have a capacity of over 100 horsepower and are required to do their fishing by at least ten nautical miles offshore.

But many local trawlers have recently intentionally violated the law by making inshore fishing trips, just some two nautical miles away from land.

This is not only results in a mass devastation of the ocean floor and all that lives on it, but also destroys the fishing equipment of those fishing legally inshore.

Local trawlers used to make fishing trips between September and October annually, but now they seem to be fishing trip all year round.

According to the fishermen of Ham Tan, since the beginning of the year, bottom trawlers have appeared in the territorial waters of the district and La Gi Town nearby.

Everyday, there are at least between five and ten trawlers catching fish in local waters that are not intended for them, resulting in huge losses to hundreds of local families who fish in-shore in small boats with a capacity of less than 20 horsepower.

In Ho Lan Hamlet alone, trawlers have towed away 200 cast nets, worth hundreds of million dong, owned by 32 fishery families in the first six months of the year.

Fishermen are now living in constant fear of trawlers' open acts of aggression.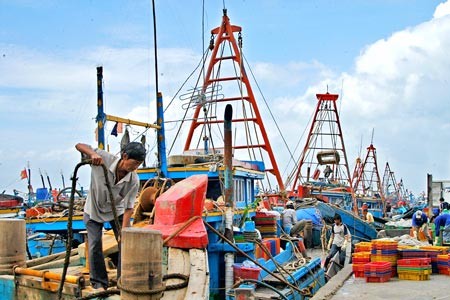 Trawlers drop anchor at La Gi Harbor 
Trawlers do not merely let their trawling tow away the fishermen's nets, but also attack any fisherman who dares to resist.

Most recently, there was a clash between some one hundred boats from Ham Tan and 13 pairs of trawlers.

A fisherman recounted, "While we were fishing, we found the trawlers dragging their nets in our fishing zone in the dark and we immediately gave a warning signaling. They didn't dodge us, but began turning their prows towards us and rushed into our nets instead."

"They not only towed way 48 of our nets, but also threw bottles and any material that were no longer needed on their trawls into out boats. Some of us were injured," he added.

A number of fishermen have decided to give up fishing because they fear the trawlers. Above all, their nets have been lost and they have to knit new ones. Once completed, the fish season has come to and end.

Not merely attacking fishermen, trawlers are ready to drastically strike back at fishery rangers.

Two weeks ago, while patrolling the coastal area along Tan Thang Commune, a team of rangers, under the Fishery Control Agency, found two trawlers fishing in the wrong zone, they immediately asked the trawlers to stop.

When the rangers' boats drew alongside the trawlers, the trawlermen suddenly attacked the rangers.

The owner of the two trawlers was identified as Nguyen Van Duc, resident of Binh Tan Ward, La Gi Town.

The Police of Binh Thuan Province are now investing the case.

But while police investigate just one small case, local inshore fishermen are worried that they may lose their livelihoods from persistent and aggressive illegal trawling.