The municipal People's Committee Chairman Le Hoang Quan yesterday sent a message to ask the Department of Construction to cooperate with the other relevant departments and immediately discover the cause of the Southern Institute of Social Sciences collapse, and punish the offenders.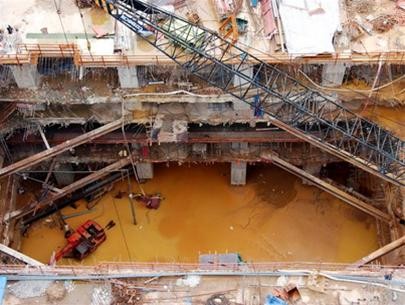 The basement area of the Pacific Building
This afternoon HCMC Department of Construction will have a meeting with the representatives of the Pacific Building's investor, Department of Construction, and Department of Police, for the initial investigation; they will listen to the builder explain the mistakes made in construction.
The rescue team has not allowed clean-up of the mess, keeping the scene ready for investigations.
The institute's officers must continue their work in the rooms rented from the opposite hotel.
The Department of Labor, Invalids and Social Affairs suggests the city authorities organize an investigating team to inspect construction sites.
A five-month inspection is planned to begin next month.
Related articles:
Builder Next Door Gets Blame for Institute Collapse
Midtown Building Collapses in Ho Chi Minh City