Heavy flooding in the central provinces has killed 14 people, and left 4 missing.  The flood waters swept both people and homes away, and thousands are now homeless.  The government has asked relevant departments and local authorities to provide immediate relief for the affected residents.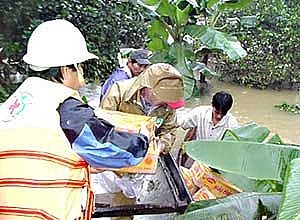 Carrying food to residents in Nghe An Province
Deputy Prime Minister Truong Vinh Trong has mandated local authorities to supply food and shelter for any people left homeless.  He requested that local authorities remain on guard to prevent disease, and that they provide for the continuing education of the local children.
The Ministry of Agriculture and Rural Development was asked by the Prime Minister to provide 30 tons of corn and deliver nearly 63 tons of vegetable seeds for the next crop.
As of now, more than 300 organizations and individuals have sent nearly VND9.1 billion (US $580,000) in goods and cash to affected regions. 
Every resident of the fourteen damaged districts of Thanh Hoa Province will be given 15 kilos of rice a month.
In Quang Tri Province, about ten thousand people are still living in flooded conditions. The local Red Cross is providing them with noodles, drinking water, and medicine.
Flooding has receded in Thua Thien – Hue Province. The local authorities are now working to repair the traffic system in those regions.
Quang Ngai Province is helping the residents rebuild their houses in areas less prone to flooding.
More than 90% of school children in Nghe An Province have now returned to school after two weeks of flooding.