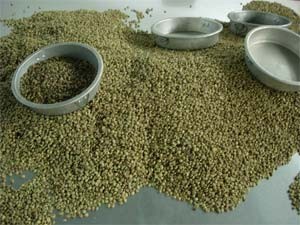 Vietnamese Coffee – billion dollar export item (photo : Hoang Uy )
A meeting between officials, businessmen and Vietnamese trade counselors was held yesterday at the Rex Hotel in Ho Chi Minh City. Deputy Trade Minister Luong Van Tu and Vice Chairman of the City People's Committee, Nguyen Thi Hong, attended the meeting.
Viet Nam's total import / export revenue last year reached US$84 billion. Of that figure, export made up US$39.6 billion, a US$7.2 billion increase compared with 2005. The growth rate of the export industry was 2%. Imports reached US$44.4 billion, a 20% increase over 2005. Import / Export turnover within the Pacific Asian region rose 19%, within Europe 27%, America 33%, and Africa 77% over 2005.
Export revenue in 2007 is expected to reach at least US$48 billion, a 20% increase over 2006.
At the meeting, Chi Le, Trade Counselor to the US, China and Belgium talked about the functions of Viet Nam's Department of Trade, particularly with regard to attracting foreign investment.
Representatives from various enterprises made inquiries regarding risk management, information on foreign markets, preferential policies for local firms and other areas.
All of them were satisfied with the counselors' answers.