Targets for job creation have not been met, labor disputes have increased and the poverty rate in some areas remains higher than others. These were among many issues discussed at a conference of the Ministry of Labor, War Invalids and Social Affairs December 28.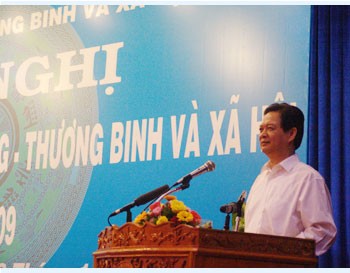 PM Nguyen Tan Dung addresses the conference, calling more efforts to reduce poverty and improve the quality of human resources. (Photo: Minh Anh)
So far this year, around 1.615 million new jobs have been created compared to the target of 1.7 million, said the Ministry.
The number of strikes has increased by 30 percent from last year, the conference was told.
The scale and quality of vocational training has yet to meet the need for human resource development and requirements of employers, the Ministry said.
The Ministry has urged local agencies to take measures to improve the situation and ensure 1.7 million jobs are generated next year, including 90,000 jobs as guest workers in other countries.
Vocational training needs to be given to 1.64 million workers and the unemployment rate should remain under 5 percent.
The Ministry said it would mobilize VND150 billion ($8.6 million) next year to support those who are eligible for social welfare programs and to reduce the poor population by 400,000 households.
Addressing the conference, Prime Minister Nguyen Tan Dung said that some new social security programs would be launched next year, such as unemployment insurance and social housing.
Along with creating more jobs, the Ministry should strengthen the quality of the human resources by improving occupational training, to ensure the amount of skilled workers make up 50 percent of the total work force by 2010, compared to 37 percent at present, he said.
He also urged relevant agencies to take measures to maintain jobs for workers, and avoid lay-offs, particularly in 61 poor districts across the country.
The government will spend VND3,000 billion ($177 million) on alleviating poverty in these districts, he said.