Nguyen Sinh Hung, Chairman of the National Assembly, attended a conference in Hau Giang Province on August 27 to review implementation of the Resolution on Agriculture and Rural Development.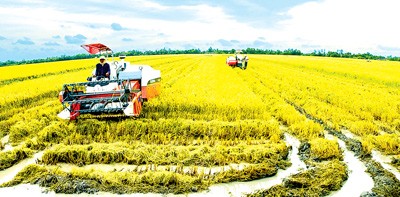 A large paddy field in the Mekong Delta (Photo: SGGP)
After five years of implementation of the Resolution in Hau Giang Province in the Mekong Delta, agriculture production has increased by four percent annually.
In addition, the province earned some VND4 trillion (US$188 million) from agro-aqua-forestry products in 2012, up 19 percent from 2008.
The province has finished all new countryside planning including infrastructure development with most communes having tarmac  roads leading to downtown areas, most households having electricity, and 74 communes having national-level educational facilities.
Chairman Hung lauded these achievements, also taking notice of various petitions for land laws and rice purchasing mechanisms for farmers to increase profits.
Hung pointed out that thanks to the Resolution--people in the Mekong Delta are seeing better living conditions.
On the same day, Chairman Hung led a mission team to liaise with the Southwestern Regional Steering Committee.
Nguyen Phong Quang, Deputy Head of the Committee, said the region's socio-economic condition in the first six months of the year is better, with economic growth estimated at 9 percent; rice productivity at 15 million tons; seafood at 1.9 tons; export turnover at US$6.5 billion; and rate of poor households dipping to 9.2 percent.
Hung said the committee should focus on raising people's living condition and protect larger paddy fields and introduce modern rice production.