The life and career of President Ho Chi Minh proved that unity was one of his greatest ideas, which is regarded as a strategic strength that contributed to the success of Vietnamese revolutions. Through him, unity was not only in the national spirit, it also expanded onto the international scale.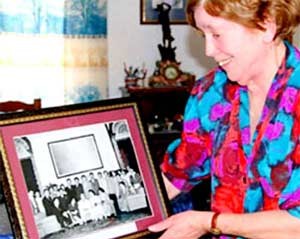 (File photo) Raymonde Dien with a photo of her, President Ho Chi Minh and others
During his stay in France to seek ways to liberate the nation, Ho Chi Minh contacted many French political leaders to court their support for Vietnam's struggle for independence.
One among them was Raymond Aubrac, a close friend of Ho Chi Minh, who lobbied for the signing of the first trade agreement between Vietnam and France in 1955 and for a stoppage of the bombing in North Vietnam by the US.
He was the Representative of the General Secretary of the United Nation (UN) in a support program for Vietnam in 1976, when the South and the North of Vietnam were unified.
He was also credited for his efforts to ask US Defense Secretary McNamara to hand maps of landmines, arranged along the 17th parallel, to Vietnam in 1979, and for his support for Vietnam's efforts to seek technical assistance from the UN, the Food and Agriculture Organization, and France in 1976.
Two other supporters of Ho Chi Minh's were Raymonde Dien and Henri Martin. The former, a 17-year-old French girl, lay on the railway at Saint Pierre des Corps terminal in Tours on February 23, 1950 to prevent a convoy of French weapons to Vietnam. The latter, a French sailor, gave out leaflets against the war triggered by French colonialists in Vietnam.
Both of them were jailed for their activities in favor of Vietnam, with one year in prison for Ms. Dien and five years for Mr. Henri. When they were released from jail, they continued their efforts to support Vietnam.
Recently, Ms Dien has supported Vietnamese Agent Orange victims through the French-Vietnamese Friendship Association.
In return for support from individuals, organizations and other countries, President Ho Chi Minh always sought unity with other suppressed nations and contributed to their fight for national liberation.
For example, over the years when Vietnam struggled for independence and freedom, the President paid special attention to foster friendships with many Asian, African and Latin American countries and to give mutual support.
Another example was for Laos. After the Geneva Conference on Laos, 1961-1962, President Ho Chi Minh invited the King and the Prime Minister of Laos to Vietnam for an official visit. He ordered relevant agencies to give them a warm welcome and care during their stay.
He wrote in related documents that "the neighborliness between Vietnam and Laos will never fade."
He also called for Vietnamese students and workers to give support to their counterparts.
Today, in remembrance and promotion of President Ho Chi Minh's thoughts of international solidarity, Vietnam's Party and State continue strengthening and expanding external relations and stepping up Vietnam's international integration, on the basis of mutual respect and benefit.
Sticking to its foreign policy on multilateralization and diversification of international relations, Vietnam is ready to become friends to all countries and actively take part in international and regional cooperation.