The research results and evaluation of human resource is not grounded in reality, which can hinder strategy and policy development for labor and job, said officials and experts from ministries and provincial authorities at a seminar on law and job policy in Da Lat, Lam Dong Province, September 22.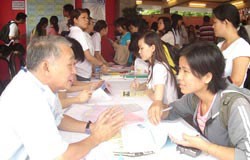 Many applicants take part in job-interviews in a job fair in HCM City's District 5 on June 28 (Photo:SGGP)
The deputy head of the Committee for Social Issues of the National Assembly, Dang Nhu Loi, presented some inaccurate numbers that provided evidence of mistakes at the Bureau of Labor Statistics.

Although local authorities are interested in creating jobs and relevant policies, and have achieved remarkable results, there are still many matters in the field of labor and work that need to be studied.
The representatives proposed measures to improve policies and statistic verification for labor and job.
The seminar, organized by the committee, is a forum for experts and administrators to discuss law and policies to improve labor laws and relevant regulations, said head of the committee, Truong Thi Mai.