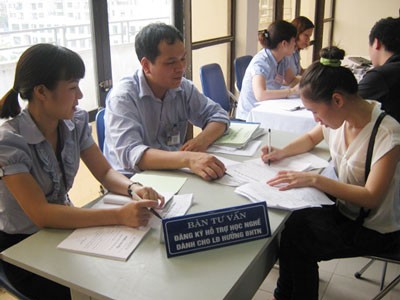 Laid off  laborers apply for unemployment benefits
Le Quang Trung, deputy director general of the Department of Employment under the Ministry of Labor, Invalids and Social Affairs said that the number of unemployed applicants have increased because financial difficulties have forced many enterprises to cut down production and lay off workers.
Last year, there were more than 482,000 unemployed applicants across the country as compared to 526,000 in 2010 and 2011, Trung added.
 
At present around 432,356 people may get unemployment benefits. Insurance companies have paid unemployment benefits to 412,048 people, provided job consultation to 342,145 laborers, and given financial support to 4,776 people for vocational training.
 
In addition to paying unemployment benefits, the local government also asked enterprises to hire the unemployed laborers.
In the northern province of Bac Giang, more than 3,700 laborers of the Sanyo OPT Company were laid off, and the Department of Labor, Invalids and Social Affairs ordered the Job Center to complete formalities so that workers could receive unemployment benefits as soon as possible.