Subsidence has long occurred in the Mekong Delta, been worsening due to underground water overexploitation and threatened the livelihood of millions of farmers, warned scientists at a seminar hosted in Can Tho city on Tuesday.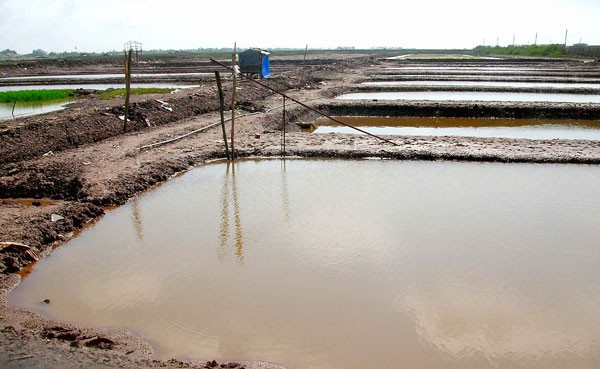 Salt intrusion has affected seafood farming in the Mekong Delta (Photo: SGGP)
Associate professor Dr. Nguyen Hieu Trung from Can Tho University said that depression had been severer in the delta for recent years especially in urban areas.

Study results from Rise and Fall project by Vietnamese and Dutch experts show that most surface soil is one meter lower than the sea level, causing the delta vulnerable to sea level rise and climate change.

This project aims to enhance the capabilities of individuals and organizations to develop sustainable strategies for dealing with groundwater extraction, land subsidence and salt water intrusion in the increasingly urbanizing Mekong Delta.

Alarming is the ongoing excessive shallow groundwater extraction for family activities, industrial and agricultural production and seafood farming.

Urbanization and land use purpose change for socioeconomic development have rocketed water use demand, resulting in increasing exploitation of shallow groundwater and putting the resource in danger of depletion.

Groundwater overexploitation has raised salt penetration possibility into shallow groundwater layers.
The study shows that the subsiding in the delta approximates 10-20mm a year many rural areas and 25mm in urban areas.
Scientists warned that groundwater extraction will increase and further subsidence and salt intrusion into underground water to hinder economic development in the future.

Therefore, the delta should have sustainable adaption strategies basing on practice to limit the underground water overexploitation. This requires the attendance by many relevant sides comprising local, regional and national authorities, non-governmental and economic organizations and institutes.

At the forum, scientists warned of expanding hydropower works in the main stream of the Mekong River. Once coming into operation, the plants will change hydrological condition and cause other urgent serious issues for the lower reaches.

Hydropower dams will disrupt sediment transport and reduce natural fertility level in these areas. Sea level rise will change the balance between the mainland and estuaries, worsening salinity in farming land, polluting groundwater and inundating many portions of the delta forever.