Deputy Prime Minister Nguyen Sinh Hung and representatives of relevant ministries and agencies worked with the Vietnam Shipping Industry Group (Vinashin) on August 7 to help it resolve its financial problems.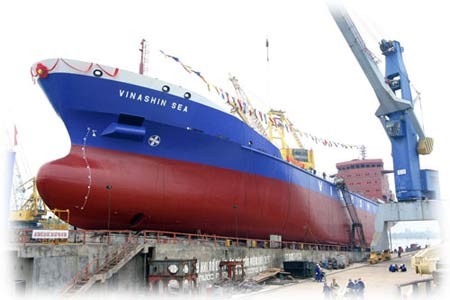 A new vessel built by Vinashin
At the meeting, Vinashin leaders proposed the Government provide it with sufficient chartered capital and help defer its debts to 2012.

It asked credit organizations to create favorable conditions for it to take out additional loans so it can liquidate contracts and stabilize the business.

In addition, Vinashin asked for the Government's assistance in its negotiations with foreign creditors, the restructuring of old debts and the issuance of Government bonds when necessary.

On the company's side, Vinashin said it would try to become stable by 2013, regain the capacity to generate profits and reach sustainable growth after 2015.

Replying to the deputy PM's question about the payment of workers' outstanding salaries and insurance, Trinh Thi Hau, Vinashin's general director, said her group and Vinashin Finance Company had paid almost all salaries and insurance during the past two weeks.

She said that next week Vinashin would spend VND100 billion helping it units resolve difficulties and maintain production and business.

Representatives of the Central bank and Finance Ministry expressed their support of Government efforts to rebuild Vinashin, but asked Vinashin to provide a detailed plan on payment of its debts.

Only with a detailed plan, can it repay by 2013 VND13 trillion out of the 57 trillion, which it owes to 40 local banks, according to the representatives.