The signing of the Viet Nam-India joint declaration on strategic partnership is the biggest success of the State visit to India from July 4-6 by the Vietnamese PM, Prime Minister Nguyen Tan Dung told Viet Nam News Agency during a recent interview on the visit.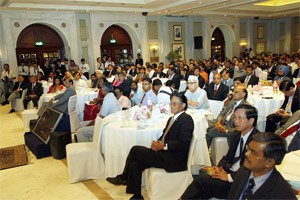 The Viet Nam-India Business Forum was held in New Dehli on July 7 during the India visit by Vietnamese PM Nguyen Tan Dung
The PM highlighted the landmark event, which made a new breakthrough in the two countries' relations, ushering in strong and diverse development for their bilateral cooperation in the areas of politics, economy, culture, education, security, defense and science and technology.
Besides the joint declaration on strategic partnership, the two sides signed eight other important documents on cooperation in the fields of power, fisheries and aquaculture, agriculture, culture, education and training.
According to the PM, these documents serve as important legal basis for the two sides to work out major orientations and concrete measures to promote comprehensive cooperation between ministries, branches and localities of the two countries, helping actively carry out Viet Nam-India strategic partnership in all domains.
The PM said that his delegation had met and worked with a series of India's leading economic groups working in many potential areas for cooperation such as Tata, Relience, Essar, ONGC, Inforsys, NIIT, Wipro, Ranbasy, Satyam, Gail and Aditya Birla. Those groups expressed their intention to continue with expanded business in Viet Nam or begin to invest in the Vietnamese market.
During the visit, businesses of the two sides signed many cooperation agreements and contracts worth more than 4 billion USD in total.
On the prospect of the two countries' cooperation, PM Dung stressed "On the basis of the new height of strategic partnership between the two countries, their potentials, efforts and determination, we can believe that in the future, Viet Nam-India relations will see strong, intensive and effective development steps."
"In the near future, I hope that India will become one of Viet Nam's most important partners in politics, economy, investment and trade, security, national defense, science, technology, education and training," the PM said.
He noted that during the three-day visit, his delegation witnessed the Indian people's great achievements in all aspects in their national construction, and gained better understanding of the history and culture of the Indian civilization.
India is now a powerful country in many aspects, with a modern science and technology foundation, high economic growth rate and highly increasing prestige in the international arena, he said.
The PM appreciated the Indian government and people's friendship with and whole-hearted assistance to the Vietnamese people in their past struggle for national independence as well as their current renovation process and economic development.
The PM said he believed that the solidarity and fraternal friendship between Viet Nam and India would be further fostered by leaders and people of the two countries.