Indian President Pranab Mukherjee arrived in Hanoi on September 14, beginning his State visit through September 17 at the invitation of President Truong Tan Sang.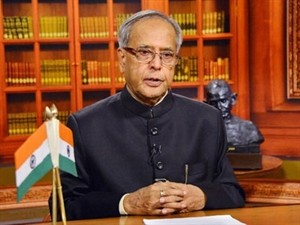 Indian President Pranab Mukherjee (Photo: VNA)
He was accompanied by Minister of State for Petroleum and Natural Gas Dharmendra Pradhan, Deputy Foreign Minister Anil Wadhwa, among others.
During the visit, the two sides will review the progress made in terms of cooperation since the mutual visits of respective leaders, particularly President Truong Tan Sang in October, 2011 and Party General Secretary Nguyen Phu Trong in November, 2013.
They will also devise guidelines and measures for boosting the Vietnam-India strategic partnership, while discussing regional and international issues of mutual concern.
Since Vietnam and India established diplomatic ties in January 7, 1972, they have become important partners, with bilateral trade increasing by an average 16 percent each year since 2009, reaching the 5.23 billion USD mark in 2013.
The two sides aim to record 7 billion USD in trade by 2015 and 15 billion USD in 2020.
India has implemented 78 direct investment projects totalling 254.5 million USD in Vietnam so far.
It has provided support to Vietnam to train high quality human resources in various fields, particularly information technology, via hundreds of scholarships.
The country has also cooperated closely with Vietnam in the field of oil and gas.
They are working towards a number of cooperation agreements, including on science and technology, and agriculture and aquaculture.-VNA