Vietnam's Order of Friendship was presented to President of the West Bengal state's India-Vietnam Solidarity Committee (IVSC) Geetesh Sharma in recognition of his contributions to relations between the two countries in Kolkata on January 27.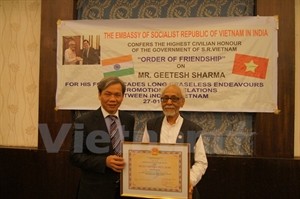 (Photo: VNA)
The ceremony was attended by former Speaker of the Indian state's Legislative Assembly H.A Halim and representatives from the All India Peace and Solidarity Organisation and the India-Vietnam Friendship Association.
At the function, Vietnamese Ambassador Ton Sinh Thanh lauded Sharma's tireless efforts in fostering friendship and multifaceted cooperation between the two countries. He expressed his hope that Sharma and the IVSC will continue to consolidate bilateral ties.
The diplomat also took this chance to encourage Indian nationals to take part in a contest on Vietnam and its President Ho Chi Minh on the occasion of the late leader's 125th birthday (May 19, 1890-2015).
Sharma told Vietnam News Agency correspondents that it was his honour to receive the Vietnamese Government's noble order, saying he and his committee will continue contributing to the amity and collaboration of the two nations.
As a member of the IVSC since the early 70's, Geetesh Sharma joined in protests supporting the Vietnamese people in their struggle for national liberation.
He also wrote a number of books on Vietnam and its relationship with India, including Indian cultural vestiges in Vietnam, a Ho Chi Minh biography, and the liberation wars in Vietnam and Kolkata.
The IVSC also organised two photo exhibitions featuring the Cham towers and Hindi idols in Vietnam and took part in the major annual Kolkata Book Fair to introduce publications on the Southeast Asian nation.
Sharman said the committee will hold various 2015 activities to mark Ho Chi Minh's 125 th birthday, organise workshops on the Cham culture in New Delhi and Kolkata, and exhibit Vietnamese books and photos at the Kolkata Book Fair from January 27-February 8