The Breeding Department under the Ministry of Agriculture and Rural Development on Tuesday delivered its report on industrial livestock and fish breeding over the past six years.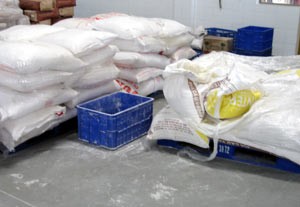 Names of businesses and breeders that uses growth stimulants to be publicized. (Photo: T.C)
Mr. Nguyen Dang Vang, the department's director, told a meeting in Binh Duong Province there were 17,700 breeding farms nationwide at present compared to just 1,700 or so in 2001. This represented a "remarkable" annual growth rate of 58.7%, he said.
Two thirds of these farms are in the country's south, primarily near the coast and in the Mekong Delta.
Mr. Vang said his department would publicize the names of businesses and breeders that used growth stimulants.
"Breeding activities should be developed in a more controlled way in the 2007-2015 period so that veterinary care can keep pace with industry developments and to minimize harm to the environment," he said.