Many large scale industrial development projects in southern province of Long An have been delayed for years, leading to a situation where investors take advantage of loopholes to sell the land they have obtained to make fat profits, while farmers, who have lost their land to the projects, are falling into miserable circumstances.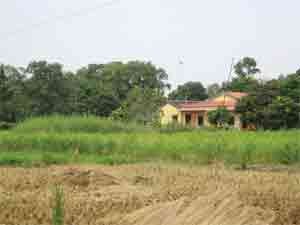 Rice still grows on one plot of land granted for Hai Son Industrial Cluster Project in Long Thuong Hamlet of Long An Province
By the end of 2007, relevant authorities of Long An Province granted 6,906 hectares of land to investors to build industrial zones and 6,958 hectares of land to build industrial clusters.

These figures easily out number the total area of land reserved for industrial development in the leading industrial centers of HCM City, 2,354 hectares, and Dong Nai Province, 4,751 hectares.
Yet, not many industrial and cluster zones in Long An, including those approved by the Prime Minister, can lease out their entire infrastructure, according to the Government Inspectorate.

For instance, only one of 16 industrial zones has fully leased out and three others leased out 60 percent of their infrastructure. The leasing rate has even faced a sharp fall during the last six months of the year due to the global financial crisis.
Nearly 7,000 hectares of land approved to build industrial clusters have met with the same fate as only 607 hectares (8.7 percent) have been used, of which, only 240 hectares were leased out.
In Long An, it is not difficult to find a delayed industrial zone or cluster project. For example, SLICO Company was granted nearly 186 hectares of land to build the infrastructure for the Saigon - Long An Industrial Zone in 2002. Nearly seven years have elapsed and the company has done very little.
Another typical example is the Hai Son Industrial Cluster, an investment by Hai Son Co. Ltd.
From a small project covering 41 hectares in Binh Tien 2 Hamlet in 2003, Hai Son Industrial Cluster has now been developed into a six-phase project and been granted a total of 855 hectares.
But questions have been raised regarding Hai Son Co.'s use of the land.
According to an official of the Duc Hoa District People's Committee, during the first phase, Hai Son Co. has completely built the technical infrastructure for the project on 41 hectares and leased it out to 15 enterprises.
In the second phase, infrastructure has been built on 90 percent of 76 hectares. Two households, subject to the clearance decision, have refused to move because they have not yet been granted new houses for resettlement.
Land granted for building the project in the remaining phases is still left unused. The delayed project has affected hundreds of households subject to the clearance decision.
A high ranking official of the Long Thuong Commune People's Committee revealed that 403 households have to move but only 212 new houses have been built. Many families have spent all their compensation, which should have been used for buying a new house while waiting for the completion of the resettlement project.
"Most of them are farmers. Without land, they don't know what else to do", he said.
Based on the delay of the Hai Son Industrial Cluster project and others in Long An Province, it is noticeable that relevant authorities in Long An Province have not been cautious in granting approval for investors' applications for building industrial development projects. Authorities have not carried out sufficient assessment of investors' financial capacity, as well as their management ability before granting land to investors.
Land reserved for industrial development projects in Long An Province is scattered over six districts: Thu Thua, Can Duoc, Duc Hoa, Ben Luc, Can Giuoc and Tan Tru. A great deal of land has been taken from local farmers.
Local authorities' lack of caution in granting land to investors not only leads to hundreds of families leading unstable lives but also creates loopholes in land management, under which a number of investors legally sell the land they have obtained under approved projects to make fat profits.
This means that while many farmers fall into miserable circumstances, dishonest investors have used the farmers' means of support as a golden egg for lucrative transactions.