A new Decree drawn by the Ministry of Environment will take effect from July 1 in which industrial wastewater fee will hike by ten times, according to the Ho Chi Minh City Department of Environment.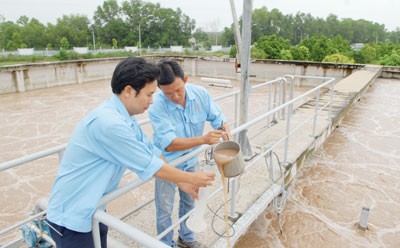 Workers take wastewater sample for testing at an industrial zone in HCMC (Photo: SGGP)
HCMC discharges 500,000 cubic meters of industrial wastewater each day, most of which is not treated properly before being released into the environment. This has badly polluted the canal system.

The wastewater fee collection will go into a fund for improvement of the canal water quality.

Nguyen Thanh Hung, an official from the Institute of Natural Resources and Environment in HCMC, said that all canals in the City now see a concentration of COD, BOD, coliform and metals higher than permissible levels, often hundred times higher.

Saigon River which provides water for the City also has same concentration levels of metal and oil. The water quality is even worse in the lower reaches.

According to the Environment Department, some industrial zones in HCMC have not separated drainage systems for rainwater and wastewater. Besides, wastewater treatment systems are not monitored regularly.

Several small production units are still located in residential areas and release large volumes of wastewater into the environment.

Nguyen Van Phuoc, deputy director of the Environment Department, said that they have asked the City People's Committee for VND16 billion (US$766,000) to purchase equipment that will automatically monitor wastewater treatment from industrial zones.

The City will also complete dredging and cleanup projects in Nhieu Loc-Thi Nghe, Tau Hu-Ben Nghe, Doi-Te, Tan Hoa-Lo Gom, Tham Luong-Ben Cat and Ba Bo Canals.

Collection of industrial wastewater fee is also a way to create funds for improving the environment.
The Ministry of Natural Resources and Environment has issued a new Decree, which will take effect from July 1 and will comprise of fixed fee and extra fee.

All industrial production units will be charged a fixed fee. In addition, they will have to pay an extra fee, which will be calculated on the volume of polluting substances in the wastewater released from these units. The extra fee aims to prompt businesses to invest more in their treatment systems.

The Department of Environment has also requested the HCMC People's Committee to propose to the Ministries of Finance, and Natural Resources and Environment to lay down strict measures to handle those not paying the wastewater fee.

Hoang Thi Ngoc Ngan, former head of the Health and Environment Ward under the HCMC Preventive Medicine Center, said that environment pollution has badly affected citizens' health with an increase in respiratory and digestive diseases. Notably, the number of stomach cancer patients has also risen.

Statistics from the Ministry of Health show that Vietnam has 15,000 people suffering from cancer each year. The main reason for this is the polluted living environment.