Scientists with something commercial to offer have a hard time getting support from manufacturers, who seem unwilling to take a chance and apply the fruits of scientific research in their factories, a leading researcher said recently.
Addressing a recent seminar in Ho Chi Minh City on getting science and industry on the same wavelength, Dr. Hoang Thi Kim Anh of the Tropical Biology Institute said businesspeople worried that the introduction of experimental work would disrupt their production lines.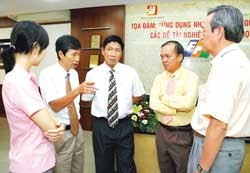 Partipants exchange views on common concerns during the break of the seminar
To show the sort of obstacle that scientists encounter as a matter of course, she mentioned the trial production of maltodextrine from cassava starch by her institute and a French company.
According to her, a high-capacity sprayer was badly needed for the production but no organization was prepared to lend one.
 
"It was only when the Minh Duong Company in Ha Tay Province agreed to lend us theirs that we could proceed and show how practical our ideas really were".
"Thanks to the success of this experimental production, Vietnam now exports bird's nest soup, sausages and instant tea with maltodextrine in their ingredients."
 
As her second example, she pointed out how industry kept buying expensive machinery and technology from abroad but didn't even consider trying out the machines developed domestically.
Dr. Anh called on producers to trust the scientists in this regard as it was the only way to encourage them in their research.
Scientists to blame?
An opposing view of the manufacturers was presented by Mr. Tran Thanh Dat, director of Samco Technology, who asserted that every factory owner was keen to apply the latest scientific advances to improve productivity and product quality.
If industry mistrusts the scientists, it is because they have failed to deliver on their promises, Mr. Dat said.
Sharing that view, Mr. Hoang Minh Chau, deputy general director of FPT Telecom, said that scientists should be like entrepreneurs and make themselves more competitive. Once they can do so, they will easily get funding from the entrepreneurs to further their research.
Mr. Phan Minh Tan, director of the HCMC Department of Science and Technology, offered three reasons to explain why it was difficult to commercialize academic research: inappropriate policies to stimulate creativity, too few subsidies for scientific research, and a lack of ability on the part of the scientists.
Mr. Tan opined that, in the coming time, his department would play the role of an investor so that it could objectively assess the scientists and their research. Peer review would be an integral part of this process.
He then proposed a model called the Triangle of Driving Forces, which would involve scientists, industry and officialdom working closely together to better understand each other's needs and capabilities.
Mr. Tran Van Tuan, deputy editor-in-chief of Sai Gon Giai Phong, wound up the seminar by highlighting four points raised by the other speakers.
He said scientific studies should be viewed as products serving social needs; business owners needed to hire researchers to stimulate their creativity; the authorities had to come up with a suitable method of peer review so that independent scientists could assess every piece of research with a commercial bent.
Last but not least, scientists needed to keep up to date with the latest advances in their fields of expertise.
The conference were organized by Sai Gon Giai Phong and the Ho Chi Minh City Department of Science and Technology.