The Ministry of Industry and Trade has set four targets to help the country's gross domestic product (GDP) expand by 6.7 percent in 2017, Minister Tran Tuan Anh said at a conference in Hanoi on January 6.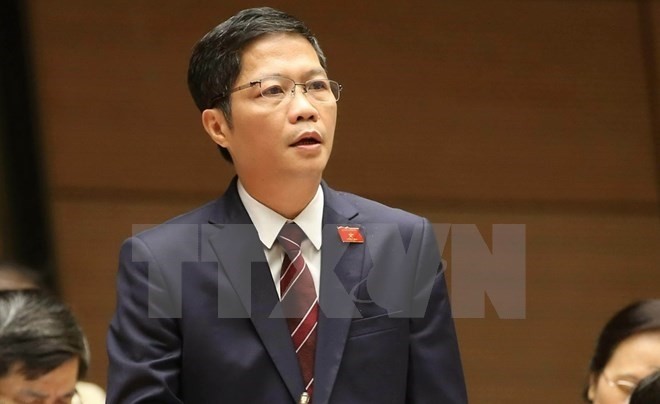 Minister of Industry and Trade Tran Tuan Anh (Photo: VNA)
The industrial production index is expected to increase by 8-9 percent while the export growth is hoped to surpass 6-7 percent, and trade deficit is kept under 3.5 percent of the export revenue. The total retail goods sales and service revenue are projected to grow by around 10-11 percent this year, Anh noted.
In the foreseeable future, the ministry will step up the restructuring of the industry towards enhancing the development of the processing and manufacturing sectors while reducing the outwork and assembly of made-in-Vietnam industrial products, he said.
Apart from removing a number of complicated administrative procedures, the ministry will improve the business environment to create the best conditions for enterprises to develop, the minister added.
The ministry will take full advantage of free trade agreements (FTA) to actively support domestic enterprises to participate in the global supply chains.
Additionally, the ministry will put forth policies to provide more assistance for the supporting industry, while working with the involved parties to simplify customs procedures and supply businesses with useful information to prevent and handle trade disputes, he affirmed.
At the conference, Anh proposed the Prime Minister approve a particular mechanism to implement urgent power projects, a plan for the restructuring of businesses under the Electricity of Vietnam Group (EVN) in the 2016-2020 period, and a strategic scheme to develop the power sector through 2025 and with a vision towards 2040.
He also recommended the government approve a framework for the average retail electricity prices between 2017 and 2018, and a decision to increase the EVN chartered capital.
The Minister asked the government to direct the Ministry of Finance to support the Vietnam National Oil and Gas Group (PetroVietnam) to implement the government guarantee undertaking (GGU) commitments on preferential tariff for the Nghi Son Refinery and Petrochemical Complex within 10 years after its commercial operation.
He also suggested the government mull over solutions to support the oil and gas, coal, and fertilizer sectors and adjust the Government Decree No.203/2013/ND-CP on the method of calculation and collection of money from mineral mining./.