The slow progress of state-invested construction projects and an inconsistency in some legal documents were discussed on the first meeting of the 12th session of the National Assembly's Standing Committee on Monday.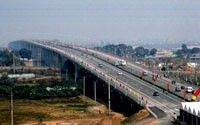 Thanh Tri Bridge in Ha Noi (Photo: VNA)
The meeting, presided over by National Assembly Chairman Nguyen Phu Trong, heard a report by the government and other reports by the Assembly's supervision team on the situation of construction using the state budget by ministries and localities in 2005-2007.
The meeting was told that some laws and instructions for implementing laws were promulgated too late and some laws have been changed many times and do not keep pace with practice. For example, one decree has been changed only seven months after implementation.   
Another issue is that an inconsistency was found between Decree 16/2005 and Decree 112/2006 and Decree 99/2007. The former contains regulations on the modification of projects in case of an abnormal fluctuation of prices of materials while the latter two do not.
The meeting was also told about the inefficient use of state capital for many projects that experienced heavy losses. For example, dozens of projects of the Electricity of Viet Nam have not developed on schedule, affecting the economic development and social life.
Another case is the project for Thanh Tri Bridge and the south portion of Beltway 3 in Ha Noi. This project, with a cost of VND7.7 trillion (US$460 million) was developed too slowly, causing a loss of VND1.5 billion (US$90,000) in interest each day. After completion, the bridge was of poor quality and tens of billions dong had to be spent on repairs.