Thousands of illegal foreign workers are flooding into Vietnam to take employment in various construction projects, even though investors are not permitted to employ foreigners unless Vietnamese workers are unable to meet those specific requirements.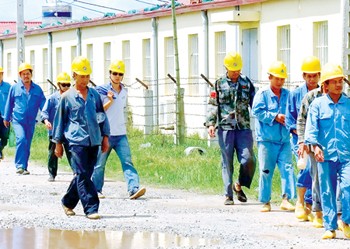 Illegal Chinese workers at the Ninh Binh Nitrogen Fertilizer Plant construction site (Photo: SGGP)
Thousands of Chinese workers have been employed to construct a Nitrogen Fertilizer Plant in Khanh Phu Commune in Yen Khanh District of Ninh Binh Province, 90 kilometers south of Hanoi.
Tung Zhang, a Chinese worker revealed that the Fertilizer plant was being built by a group of seven to eight Chinese companies who had brought their own workers. Most workers, which included 40-50 year old women, were from Guangxi Province in China.
A few Vietnamese workers have been employed at the plant, but they number just a few dozen and work mainly as assistants while the Chinese workers do the main work.
All the workers are unskilled labor, yet the monthly salary for a Chinese is over VND20 million while for a Vietnamese it is a mere VND3-6 million.
Trinh Thi Van works as an interpreter for a company in Guangdong Province. Her company deals with cement plant projects and has built three factories in the northern provinces of Thai Nguyen, Phu Tho and Quang Ninh. She said, "Because of the language difference, the company has employed Chinese workers to work in Vietnam and her company plans to recruit more Chinese workers".
Chinese workers can be found in abundance in Thuy Nguyen District of Hai Phong City and Dong Trieu and Uong Bi districts of Quang Ninh Province. 
Illegal migrant workers
According to the Ministry of Labor, War Invalids and Social Affairs, in the last three years the number of foreign workers in Vietnam has increased. Their numbers have grown now to more than 74,000, an increase of 18,000 since the beginning of the year.
Ninh Binh Province has presently 26 ongoing projects requiring both skilled and unskilled workers numbering 2,400. The Ninh Binh Nitrogen Fertilizer Plant alone has 1,988 workers of which 1,448 are illegal.
Vu Duc Phuong, an official from Ninh Binh Province, said of the 1,988 workers, 1,300 are un-skilled labor. Several plead to be tourists on a visit to Vietnam.
The Nhan Co Aluminum Plant in Dak R'lap District in the Central Highland province of Dak Nong has 267 Chinese engineers and workers out of which 202 are working illegally since mid July.