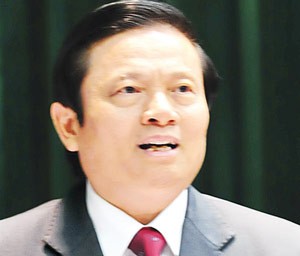 Minister of Information and Communications Le Doan Hop answers a question during the National Assembly's Q&A session Nov. 17 (Photo: SGGP)
Minister of Information and Communications Le Doan Hop was the second cabinet member after the State Bank Governor answering questions from National Assembly deputies in a Q&A session in Hanoi Tuesday.
Deputies Nguyen Duc Hien from the central province of Quang Ngai and Nguyen Thanh Tam from the southern province of Tay Ninh asked about the effects, if any, of base transmission stations against the health of nearby residents.
The minister cited a World Health Organization assessment that said there were no scientific proof the stations could harm people's health.
Deputy Tran Quoc Khanh from Hanoi asked what solutions the ministry had to solve the problem of newspapers providing wrong information.
The minister said the ministry had been strict on this issue. He said last year punishments were carried out in 65 cases, in which 34 involved in providing wrong information.
He added the ministry would boost management and examination of media offices to prevent similar incidents from happening.
Deputy Pham Phuong Thao from Ho Chi Minh City mentioned a fact that in some of the cases, actions taken were not proper enough.
The minister said in principle, "journalism must be honest, all information must be accurate and all infringements must be solved fairly."
Deputies Cao Thanh Van from Bac Lieu Province, Phan Thi Thu Ha from Dong Thap, Nguyen Lan Dung from Daklak and some others had questions on the management of the Internet and expansion of online games with sexual and violence content.
The minister said technical barriers can be used to deal with the problem. He said the ministry would strengthen examination and punishment of internet shops that violated regulations. The ministry will also check out 20 agencies that provide online game services, he said.
Minister Hop added that the ministry was working on a new set of regulations on online games for the Prime Minister's approval, and the new rules were expected to go out in the first quarter of next year.