Access to information is good for Vietnam, its development and its people, said United Nations Development Program (UNDP) Country Director Setsuko Yamazaki at a round-table meeting on December 17 in Hanoi.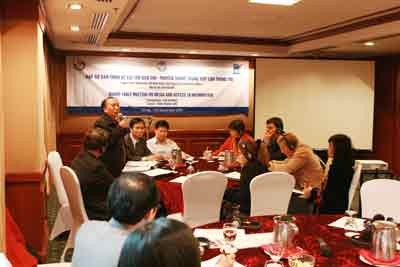 Hoang Huu Luong (standing), head of the Press Department under MIC, speaks at the "Media and the Law on access to Information" conference on December 17 in Hanoi( Photo: Courtesy of UNDP)
Now is a critical time to discuss the issue of access to information because Vietnam is about to transit from a low-income to a middle-income country, said the UNDP representative.
"Certainly the current process of drafting and discussing a law on access to information in Vietnam can be seen as a positive indication of the goodwill and determination of the Vietnamese Government to improve transparency in the public sector," said Yamazaki.
"Speeding up the drafting process would bring the benefits to society sooner rather than later," she added.
The Vietnam Journalists' Association (VJA) and the Ministry of Information and Communications (MIC) organized the meeting titled "Media and the Law on access to Information."
Le Quoc Trung, VJA Standing Vice Chairman, said Vietnamese people have the right to access information as stipulated in the constitution.
The meeting was attended by Do Quy Doan, MIC's deputy minister; Hoang Huu Luong, head of the Press Department under MIC; and more than 40 editors in chiefs and representatives of Government agencies.
In related news, The State President has promulgated the Law on Telecommunications and the Law on Radio Frequency which will take effect July 1, 2010, the Office of the State President announced on December 17.