A preliminary list of 1,323 candidates for the upcoming 12th National Assembly elections has been published nationwide, National Assembly Chairman and Central Election Commission Chairman Nguyen Phu Trong announced yesterday.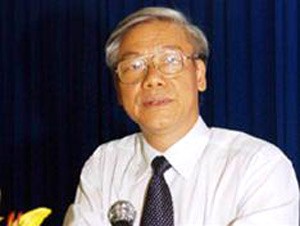 National Assembly Chairman Nguyen Phu Trong
Publication of the list was an important step prior to the convening of the third consultative conference which will decide the official list, Mr Trong said.

Preparations for the upcoming elections had been carried out so far in line with the law and in a democratic manner, with a large number of self-nominated candidates, he noted.

The preliminary list includes 238 self-nominated candidates, 101 of whom are from Ho Chi Minh City. Ha Noi follows with 52 self-nominated candidates.

This list includes 143 ethnic minority candidates and 391 women.

All candidates listed were found to have fundamentally met requirements of knowledge, capacity and criteria to serve as deputies if they were elected. In many cites and provinces, all nominated candidates were university degree holders.

NA Chairman Trong spoke of the need to have appropriate ratios of candidates who were women, ethnic minorities and young people and to ensure the election takes place in accordance with the law and in a democratic manner. Relevant agencies were urged to promptly address complaints and denunciations relation to the elections.

Mr Nguyen Phu Trong also asked for an early deployment of the monitoring preparations for the upcoming elections.