Fourteen Russian tourists and one Vietnamese were reportedly in stable conditions Sunday at Cho Ray Hospital in Ho Chi Minh City after a deadly bus crash that killed nine other Russian tourists and the Vietnamese guide late Friday in Binh Thuan Province.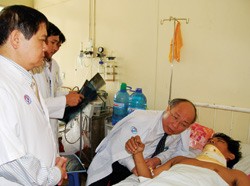 Health Minister Nguyen Quoc Trieu (C) visits driver Nguyen The Lam at Cho Ray Hospital, HCM City, on Sunday (Photo: Thanh Nien)
According to reports from Cho Ray, a leading hospital in southern Vietnam, CT scans showed that there were no brain harms in all of the injured people.
The injured Vietnamese is Nguyen The Lam, 40, the driver of the bus. According to a Cho Ray Hospital doctor, the only thing he could remember Sunday was the bus's break failure. One of Lam's relatives said he has been a driver for 19 years.
The bus with 24 Russian tourists abroad departed the beach city of Phan Thiet, Binh Thuan Province, early Friday, Mar. 13 for the upland city of Da Lat, Lam Dong Province, and on the way back, it plunged off a cliff in Dai Ninh Pass in Binh Thuan's Bac Binh District.
Rescue work was conducted during the Friday night, and the injured people were carried to the Lam Dong Province Hospital, and then were brought to Cho Ray Hospital on Saturday.
According to the Vietnamese Ministry of Health, a Russian rescue team arrived in Vietnam Sunday to prepare for bringing the dead and slightly-injured Russians home.
Also Sunday, Vietnamese Minister of Health Nguyen Quoc Trieu visited the injured people treated at Cho Ray Hospital.
According to Russian press, among the 24 Russian tourists, 15 came from Moscow and the others from St. Petersburg and Surgut. All of them bought their tour from the St. Petersburg-based firm Lanta.