The People's Committee in the Mekong delta province of Dong Thap proudly announced on May 11, that many farmers in the province had a yearly income of more than VND1 billion (US$48,000).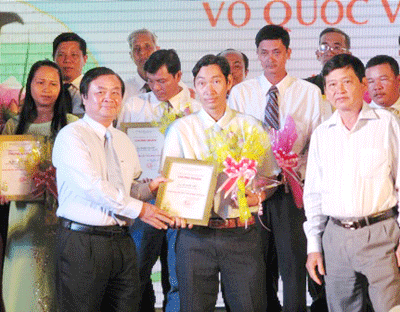 Le Minh Hoan, chairman of the People's Committee of Dong Thap Province grants certificates of merit to farmers at a ceremony held to acknowledge their hard work and good production practices
According to Le Minh Hoan, chairman of the People's Committee in Dong Thap Province, the desire to yield good quality production and pursue good business models was rampant across the province.
This has led to an innovative growth model by farmers wanting to do well and make money, while also contributing to the province and the country's welfare.
In the last three years, around 145,000 households in the province were awarded title of good farmers and good businessmen.
Farmers here earn high income from various farming and business models such as growing high quality rice for exports, growing specialty fruit trees in their orchards, or cultivating high quality vegetables and ornamental plants.
Some successful examples of farmers in the province are farmer Tong Van Phong in Vinh Thoi Commune of Lai Vung District, earning more than VND1.2 billion (US$ 57,637) a year from 1.5 hectares by growing unseasonal sugary tangerine; Ngo Phi Dung in Phu Long Commune of Chau Thanh District earns VND1.3 billion annually from breeding pigs; and Bui Van My in Phu Tho Commune of Tam Nong District nets VND2 billion annually from breeding fresh-water fish.