The Government Inspectorate and the World Bank on Monday introduced the Vietnam Anti-Corruption Initiative (VACI) for 2011 aiming to foster innovative ideas to raise public awareness on the enforcement of laws to prevent and combat corruption.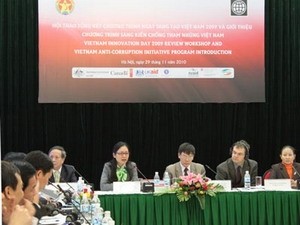 Government Inspectorate introduce the Vietnam Anti-Corruption Initiative (VACI) for 2011 in Hanoi on November 29
VACI 2011 will include a competition for selecting the best initiatives to enhance public uprightness and law enforcement to make the fight against corruption effective. These ideas must have a high degree of creativity and feasibility.
There will also be a section for sharing knowledge on anti-corruption laws and experiences drawn from the enforcement of laws against the scourge.
Undertaken by the Government's Inspectorate, VACI 2011 is sponsored by the World Bank, the Australian Agency for International Development (AusAID), the UK International Development Agency, the embassies of Sweden , Finland and Belgium , and others.
The same day, the Government Inspectorate and the WB jointly held a seminar reviewing Vietnam Innovation Day 2009 (VID 2009) which had the topic, "More accountability and transparency, less corruption".
Twenty-five projects won VID 2009 prizes for 330,000 USD in total. As many as 152 projects were submitted.
Projects on raising ethnic minority students' awareness on accountability and transparency in Vo Nhai, the northern province of Thai Nguyen and improving the quality and participation of the community in building, implementing and monitoring plans to reduce poor households in the central province of Ha Tinh were presented to the participants.
Deputy Inspector General Tran Duc Luong said VID 2009 reflected the community's enthusiastic participation in preventing and combating corruption and it worked as an information channel to help people understand more about the fight against the menace and the Government's policies in the field.
A WB representative noted that selected projects have figured out specific activities to coordinate the mass media and other partners in implementing and advertising the projects.
The representative said almost all VID 2009 projects showed high commitment and expectations of being maintained and then expanded so that they could seek particular evidence on their impacts on the community and foster bigger ideas for the sake of the community's development.