Officials from the Binh Thuan Province Department of Health conducted a surprise inspection December 11 of the Tan Phat Company to investigate claims it was selling toxic watermelon seeds.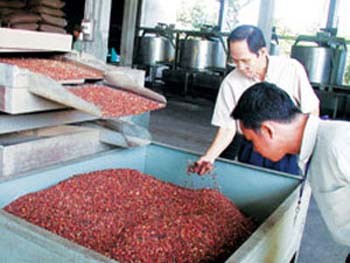 Health officials inspect Tan Phat Company's watermelon seeds in the central province of Binh Thuan December 11 (Photo: nguoilaodong)
Earlier, the Danang Department of Health reported it had found the company's watermelon seeds soaked with Rhodamine, a toxic substance which can cause cancer and is prohibited for use in food.
The health department together with representatives from the Sub-department of Food Hygiene and Safety and Market Management Sub-Department in Binh Thuan, took samples and sent them to the Ho Chi Minh City Institute of Hygiene and Public Health for tests.
Inspectors sealed off more than 80 tons of watermelon seeds in the company's warehouse with 79 tons from China, and asked the company to temporarily halt business while waiting for the test results and a final decision from authorities.