Due to several shortcomings, hundreds of thousands of mosquito nets given to the central highlands province of Gia Lai's residents under the Regional Artemisinin-resistance Initiative project (RAI) have become unusable that local residents have converted them into fishing gear or fencing.

Gia Lai is one of 14 provinces in Vietnam which benefit from the RAI. Distribution of treated mosquito nets is part of the US$100-million project which is funded by the Global Fund to Fight AIDS, Tuberculosis, and Malaria. However, these insecticidal nets are not appropriate for local residents' actual need that most of them are put in mothballs or used for different purposes.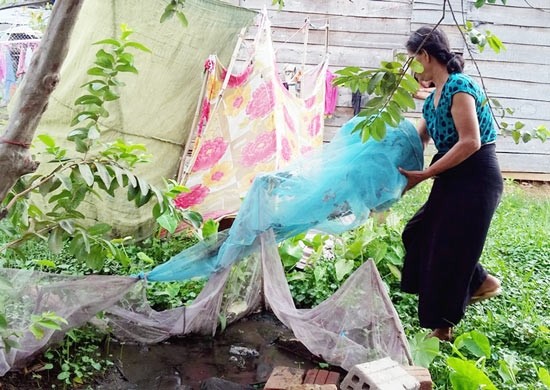 A resident uses insecticidal net as fish farming cage. (Photo: SGGP)
Many people in Phu Thien District cut these mosquito nets into smaller pieces to use them as fence around their ponds or their chicken and duck coops.

A few months ago, Mrs. Nay Hmuy's family in Chroh Ponan Commune was given two insecticidal nets. She was happy and hoped that these two treated nets would protect her from mosquitoes. Unfortunately, these nets were shorter than her beds. Their length was only 1.8 meters while most local beds' length was 2 meters upwards. In addition, the meshes of these nets were much bigger than normal nets that they could not exclude small mosquitoes; therefore, she could not use them. Instead of dumping these mosquito nets, she used them to fence her duck coop.

Meanwhile, Ms. Nguyen Thi Hai in Ayun Pa Town used mosquito net as fish farming cage.

Besides Ayun Pa Town, tens of thousands of insecticidal nets had been given to local residents in Krong Pa District. Mr. Siu Thanh, deputy director of Krong Pa District's Medical Center, said that during supervision, the center was reported that the length of insecticidal nets was shorter than that of the beds; the nets were stiff; the meshes of the nets were too big that mosquitoes can sneak in; and a few people were allergic to the chemical impregnated on the nets.

Mr. Trinh Van Ho, deputy head of Ia Pa District's Medical Contingency, said that more than 27,700 insecticidal nets were offered to local residents. His center also received the same feedback about these mosquito nets. Moreover, these mosquito nets were of various sizes and some even were made upside-down that they were unusable.

The RAI whose project manager is the National Institute of Malariology Parasitology and Entomology is carried out in 14 provinces where there is credible evidence of artemisinin resistance and three institutes of malariology parasitology and entomology from 2014 to 2016. The project costs more than $15.05 million, of which non-refundable aid is $15 million, the rest is reciprocal capital.