Minister of Transport Dinh La Thang has assigned an inspection team to investigate the VND16 billion (US$ 759,000) bribery allegation on March 27.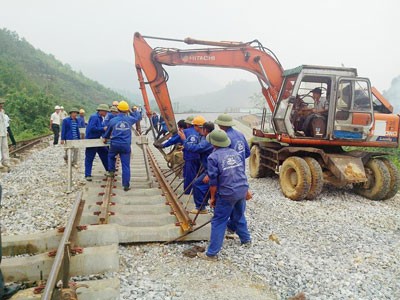 Safety improvement over Hanoi-HCMC railway route is one of projects constructed by JTC (Photo: SGGP)
The team leader is Nguyen Van Huyen, deputy inspector chief from the ministry. Minister Thang also assigned three police officials to the team.
The team will operate independently with the ministry inspectorate to inspect railway projects related to the Japan Transportation Consultants.
A hotline 0986093979 will receive information about the case, said Huyen. Tran Van Trung, a ministry inspector, will be in charge of this hotline.
The ministry inspectorate began investigation on railway projects on March 27, according to Huyen.
The first inspected project is the Urban Railway Route No.1 in Hanoi, followed by other projects attended by JTC and projects of the Vietnam Railway Authority.
Related articles:
Ministry sets up inspectorate over Hanoi railway projects