Each year students from the Institute of Navy feel enthused at the thought of going to sea on new missions, inspired by knowledge and skills built up in 6 years of their training.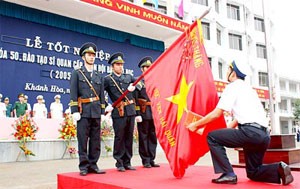 Students of Institute of Navy taking oath at graduation ceremony
Bui Si Tung from Thanh Hoa, a KH25A student in Maritime Study will graduate in just a few months but he already has the appearance of a confident naval soldier.
Influenced by his passion for the gorgeous romantic lyrics in the song "Some heart-to-heart words from a naval soldier", he undertook the entrance exam to the Institute of Navy for the purpose of experiencing life as a naval soldier. After nearly 6 years in the institute, he recognizes the true hardships of a real naval soldier.
During their first school year, students are expected to undergo a tough examination, sea frequency test. They are left to drift on a ship with sufficient provisions but no help from any soul. The instructors then check and arrange the students in appropriate classes.
Tung and the other students who did not get seasick are chosen for Maritime Study, they major in specialized training meant for outstanding captains and mates for steering naval ships. According to Tung, the regulations in his institute are extremely tight because the students are forced to live and study like professional soldiers.
He said that students like him who are about to graduate had been provided with necessary knowledge and skills so that they can take any entrusted mission however arduous it was.
Sharing the same thought with Si Tung, Le Thien Duong from Hanoi is now ready for his future closely associated with seas and islands. His desire for naval life was seeded when he was a child. As Duong said, the students can be seasick and unpleasant in the beginning but turn out to miss the sea waves when the sea is calm.
To the students in Institute of Navy, the more they overcome the billow, the more they feel they have grown up.
Because of their understanding of students, the instructors in Institute of Navy always try their best to inspire their "comrades" with love for seas, islands, ships and even the frightening sea waves, with interesting lessons.
While Colonel Do Anh Tinh, for instance, takes full advantage of the rhythms and melodies in his poems and songs, Colonel Nguyen Duc Suyen, makes the best use of his memory of documentary films to help the students understand the importance of seas and islands and love them more day after day. 
The 56-year-old Institute of Navy originally set up with the name Coast Training School is a school which aims at training the officers at university level, counselors and army engineers at post-graduate level or MScs and Doctor of Naval Military Science.
The development of Institute of Navy today is a notable contribution by every member of the institute. From this solid "cradle", more and more professional officers will confidently set out to fulfill their dream mission on the open seas.