The National Institute of Hygiene and Epidemiology will be conducting a study of the measles epidemic for the 2013-2014 period.
The Ministry of Health and the Ministry of Science and Technology requested this study.
The study will focus on the high rate of death. The number of death due to complications of measles is 30 times higher than nine years ago. Children below nine months old are most prone to getting sick and dying.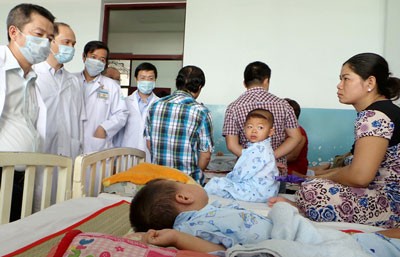 Leaders of Ministry of Health visit the tropical disease hospital to supervise treatment of patients (Photo: SGGP)
116 out of 241 patients experiencing symptoms have identified the disease as measles, according to the Ministry of Health. Two fatalities were reported at the Central Pediatrics Hospital and Bach Mai Hospital in Hanoi on April 18. There are currently 3,360 patients infected with measles. The infection has spread to 63 provinces and cities nationwide with 116 reported deaths since December 2013.
Professor Le Quang Cuong, Deputy Health Minister visited three hospitals in Ho Chi Minh City including the Children Hospitals 1 and 2 and the Tropical Disease Hospital on April 19 to supervise treatment of patients.
The Children Hospital No.2 receives 40 cases of measles everyday. Since the beginning of the year, there have been 734 patients in the hospital, 60 percent of them from neighboring provinces. Medical workers stressed about transmission when patients flocked to the hospital.
The hospital treated 938 children and 260 adults since the start of 2014, said Dr. Nguyen Van Vinh Chau, director of the Tropical Disease Hospital.
The number of patients has been exponentially growing, said Dr. Ngo Ngoc Quang Minh from the Children Hospital No.1. There were 141 patients in January, 427 patients in February, and 605 patients in March.
On April 19, 37 patients with measles admitted into the hospital with 70 percent of patients below 18 years old are residents in HCMC and nearby provinces. 117 out of 1,000 patients experienced breathing failure and 12 were forced to use the ventilator.
Only 2 percent of children nationwide receive proper vaccinations, said Dr. Truong Huu Khanh from the Children Hospital No.1.
The city has administered 45,000 doses for the National Expanded Program on Immunization, said Dr. Nguyen Tri Dung, director of the Preventive Medicine Center in HCMC. 17,000 people received vaccinations in private clinics.