An international workshop (photo) on legal issues regarding China's illegal placement of its Haiyang Shiyou-981 oil rig inside Vietnam's exclusive economic zone was held in Ho Chi Minh City on July 26.
More than 30 local and foreign experts from the United States, Russia, Italia, Switzerland, Hungary, Poland, Thailand, the Republic of Korea, India, the Philippines, Japan and Indonesia joined the event.
The conference was divided into three parts, including international law and China's placement of the HD-981 rig into the Vietnam's exclusive economic zone, using diplomatic and political measures to solve the conflict in accordance with international law, applying legal measures to solve current disputes in the East Sea.
It is aimed to create a forum for scientists to discuss about China's actions, show their viewpoint in line with international law.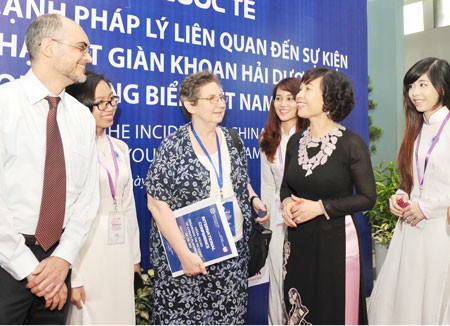 Prof., Dr. Mai Hong Quy (Ao dai) from the Ho Chi Minh City University of Law- the host of the event and foreign delegates exchange views on the East Sea disputes