Integration into the international economy, WTO admission, anti-corruption and administrative reform continued to be a great concern of voters nationwide, who sent as many as 860 questions to the 10th session of the 11th National Assembly, which is taking place in Ha Noi.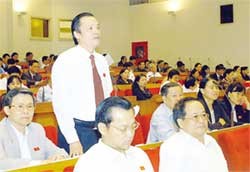 A NA deputy raises his questions (Photo: SGGP)

Voters applauded the Party's and State's recent efforts to fight corruption, including the urgent issuance of legal documents, the establishment of a committee in charge of anti-corruption, and the government's resolute instructions to address negative cases, said Huynh Dam, Vice President and Secretary General of the Viet Nam Fatherland Front Central Committee.

However, they expressed their worries about the current wastefulness and corruption, which they described as "serious", in the country and unsettled big corruption cases, he added.

Regarding Viet Nam's integration into the international economy, voters proposed the Government take comprehensive measures during the implementation of WTO commitments to ensure national benefits and prevent negative impacts on the national identities.

They were also unpleasant with complicated administrative procedures, cumbersome government apparatus, as well as a large number of unprofessional and irresponsible civil servants.

About the on-going planning of industrial and urban areas in many localities, which they commented as "unsuitable", voter also made a proposal that the Government strictly direct the implementation of compensation policies to help displaced people stabilize their lives.