The State Bank of Vietnam would adopt tough measures to lower interest rates if the consumer price index (CPI) rises by less than one percent in February.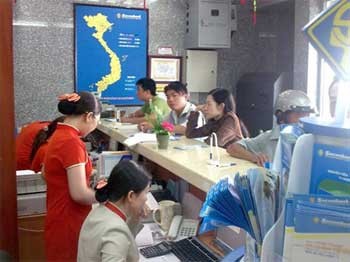 Transactions conducted at a Sacombank branch in Ho Chi Minh City
Governor Nguyen Van Giau stated that if the February CPI increases by about 1.4 percent, the central bank would take measures to slowly and gradually lower interest rates.
 
The lending interest rate on the dong currently stands at 15.27 percent per year and as the January CPI rose by 1.74 percent, the central bank cannot cut rates now.
 
The governor credited the bank's timely intervention which made it possible to reach the basic targets set by the Government in 2010. These targets included preventing economic recession and stabilizing the monetary market.
 
The central bank would continue to operate monetary policies prudently and in a flexible manner according to market regulations in order to stimulate growth, curb inflation and manage trade deficit.
 
Referring to the foreign exchange market, he said foreign currency resources in Vietnam have risen and the foreign exchange market has done well, therefore the central bank need not intervene in the market directly.
 
Daily foreign currency balance in the bank has soared more than US$250 million during the past month, whereas banks saw a minus balance in late November 2010.