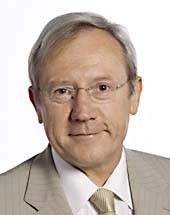 Mr. Thierry Cornillet
Mr. Nguyen Thien Nhan, Vice Chairman of People's Committee of Ho Chi Minh City, received Mr. Thierry Cornillet, President of the International Association of French-speaking Regions
.
Mr. Cornillet paid a courtesy visit and introduced his association to Ho Chi Minh City's leader.
After four-year in operation, the association has now 93 members, which are administrative units in 26 nations.
Mr. Nguyen Thien Nhan said Ho Chi Minh City always encouraged French teaching and learning and suggested that the association provides information of its activity program so that Ho Chi Minh City could take part in.